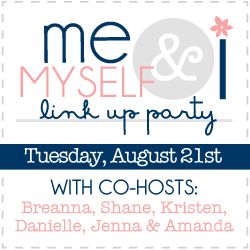 ((A little about "Me Myself & I" the Link Up Partay:
The link up is called none other than: Me, Myself, and I.
It'll go live the third Tuesday of every month and stay open for one week.
There will be 5 questions to answer each month that will be posted in advance so that you have plenty of time to write a post or if you'd like we could email you the questions. For more info and to join in on the fun, stop on by HERE for the original post.))
1. What would you attempt to do if you knew you could not fail?
Become a NICU Surgeon. Complete the NYC Marathon. Write & Publish a book series.
2. If you had only six months left to live, what would you do with the time?
Spend as much time as I could with my loved ones. Complete a mission trip with Paramedics for Children, travel to Spain and Greece, road trip from the East Coast to the West Coast...
3. If a front page news article was written on you, what would the headline be?
SHOCKING! (lol, I always say that when I hear something that's just obvious)
4. What is your biggest pet peeve?
When people place the toilet paper roll so the paper comes out the bottom-it should be over the top! Also, when people burp out loud obnoxiously, seriously, is this necessary!?
5. What is your favorite chick flick movie?
Sigh...Love Actually. I just am in love with the entire movie and I can't get enough of it!